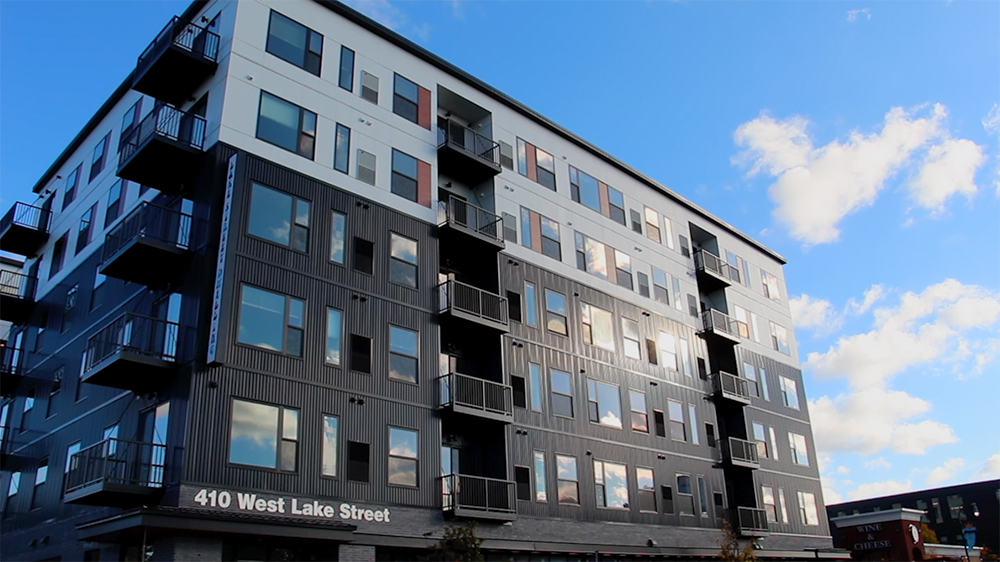 November 23, 2020
Lupe Development Partners opens 111-unit affordable building on Lake Street in Minneapolis
MINNEAPOLIS, MINN. — Lake Street Dwelling, a new 111-unit affordable building in the Lyn-Lake area of Minneapolis, opened to residents this month. The six-story building at 410 W. Lake St. is the first of three buildings in Lupe Development's mixed-income project in the neighborhood. In lieu of an in-person grand opening event, Lupe Development created a virtual ribbon cutting with community members and project partners.
The building serves residents with incomes ranging from $30,000 to $42,000 a year and includes units reserved for veterans experiencing homelessness. Lake Street Dwelling will also offer community-based programming and support for veterans through partnerships with Hennepin County and the nearby Ballentine VFW Post 246. Residents began moving in on Nov. 1.
"Lake Street Dwelling demonstrates that affordability and quality aren't mutually exclusive," said Steve Minn, vice president and chief financial manager of Minneapolis-based Lupe Development Partners. "At a time when people need access to affordable housing choices more than ever, we are proud to be opening this building and continuing our investment in the Whittier neighborhood."
In an area where luxury housing is abundant, the property offers high-quality, modern finishes and amenities at an affordable price point.
"We need affordable housing more than ever to support people who are experiencing homelessness," said Minneapolis Mayor Jacob Frey. "With housing at 30% to 60% of area median income, we can make sure that people can transition from homelessness to stable housing. This is the kind of project we are so proud to support."
In addition to Lake Street Dwelling, construction is currently underway at an adjacent site for a 135-unit entry-level, market-rate building at 500 W. Lake St. Plans were also approved for a third phase with up to 95 affordable units at 550 W. Lake St. Taken together, 61% of the campus will be affordable, offering a mix of high‐quality rentals with shared amenities to fit a variety of budgets.
"We have been involved with this project since the very beginning. We are excited to offer community support and housing for veterans experiencing homelessness in Minneapolis," said Winston Kettle, VFW Post 246 Quartermaster. "It's a tough time right now in our community, and we're looking forward to better and brighter days ahead when we hope the residents of Lake Street Dwelling will visit for a meal, a drink, or some entertainment."
Lupe Development acknowledges that this project would not be possible without the support of generous funding partners, including the Metropolitan Council, the City of Minneapolis and Hennepin County. Lupe Development also recognizes the AFL-CIO Housing Investment Trust, which agreed to be the senior construction and permanent lender on the project due to its commitment to skilled labor.
"Lake Street Dwelling is creating opportunities in the form of trade jobs during these unprecedented times, when many are struggling to find work," said Dan McConnell, business manager for the Minneapolis Building Trades Council. "Lupe Development's commitment to using union labor on this building and for subsequent phases of this project is a win – win – win: For Lupe, construction workers and the future residents of these buildings."
About Lupe Development Partners
Lupe Development Partners is a Minneapolis-based, women-owned enterprise that plans, develops and manages residential and mixed-use real estate in the Twin Cities urban core. Since 1989 the company has developed, owned and/or renovated more than 1,200 apartment or condominium units and more than 1 million square feet of retail, residential and industrial property. Lupe Development Partners has recently completed several affordable housing projects, including Broadway Flats and Mill City Quarter in Minneapolis and East Side Apartments in Saint Paul.