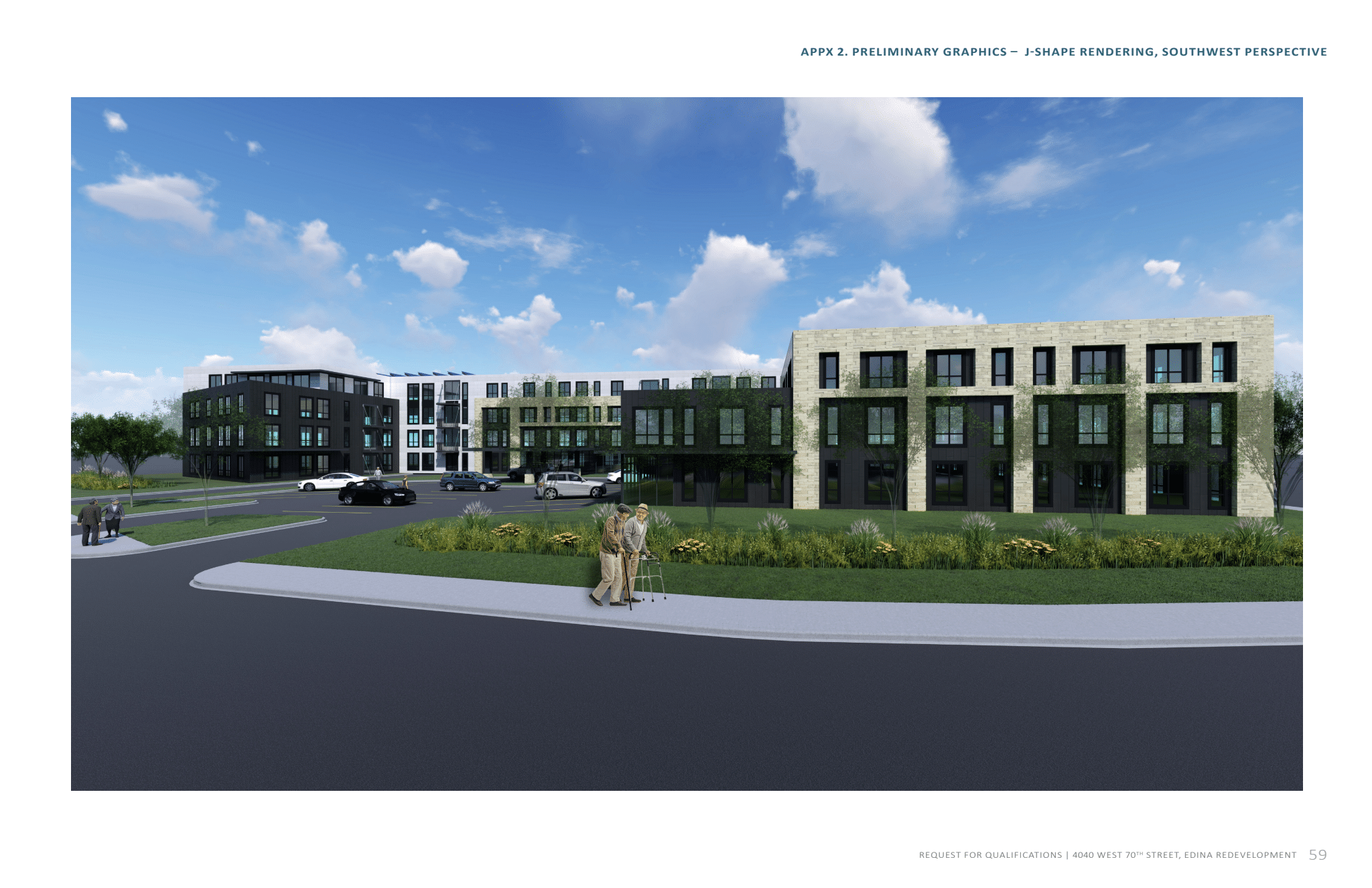 November 17, 2020
Lupe Development Partners and Ecumen selected for Edina affordable senior housing site
Development team poised to begin construction in 2022
MINNEAPOLIS — Lupe Development Partners and Ecumen announced today that they were selected by the Edina Housing Foundation to bring 118 units of affordable housing for older adults to a Foundation- owned parcel near Southdale Mall in Edina, Minn.
Located at 4040 W. 70th St., the proposed development would combine affordable senior rental housing with high-end amenities, community-based programming, public art and sustainable design. With rents ranging from $650 to $1,600, the building will be affordable to seniors with household incomes between $22,000 and $58,000 per year.
"This project will be ideal for individuals who want to remain in Edina after retirement," said Steve Minn, vice president and chief financial manager of Minneapolis-based Lupe Development Partners. "This area is rich in services, restaurants, shopping, transit and other essentials to keep senior residents connected to their community. It's a perfect match with the amenities we plan to bring to the development."
Lupe Development Partners and Ecumen, which operates a variety of senior housing options and services, are experienced partners in the area of affordable senior housing. Ecumen will manage the property upon completion. The project team will work with the City of Edina and neighbors to develop the public art and community programming available at the property.
"We are very excited to partner with Lupe Development and the City of Edina on this beautiful new   community," said Shelley Kendrick, president and CEO of Ecumen. "This property will be a wonderful opportunity for residents to remain actively connected with all that they love in this special community as they explore new interests and build new friendships."
The proposed development would include one- and two-bedroom units. Amenities include a fitness center, a community room with kitchen, a business center, below grade parking, a package and mail center, outdoor garden beds and a green roof, and walking path connections to the city's trail system.
Next, the project team will begin the development planning and approval process with the City of Edina while obtaining financing for construction. A virtual community input session is scheduled for Nov. 30 from 6-7 p.m. with representatives from the Cornelia neighborhood. Pending project approval, construction could begin in spring 2022.
To join the Zoom meeting, please enter the following information on your personal computer, tablet or phone browser:
Meeting ID: 828 7714 9858
Passcode: 4040
About Lupe Development Partners
Lupe Development Partners is a Minneapolis-based, women-owned enterprise that plans, develops and manages residential and mixed-use real estate in the Twin Cities urban core. Since 1989 the company has developed, owned and/or renovated more than 1,200 apartment or condominium units and more than 1 million square feet of retail, residential and industrial property. Lupe Development Partners has recently completed several affordable housing projects, including Lake Street Dwelling, Broadway Flats and Mill City Quarter in Minneapolis and East Side Apartments in Saint Paul.
About Ecumen
Founded in 1862 as a Lutheran social service agency, Ecumen creates living spaces, home and community-based services, and work spaces that reflect its commitment to exceptional care, advocacy for those it serves and employs, equality, and inclusivity. Ecumen has a national reputation for innovative programming and a commitment to person-centered care that focuses on individual needs and personal choice. Named one of six senior living providers to watch in 2020 by Senior Housing News, Ecumen is also a 2020 recipient of the NRC Health Customer Approved Award. Based in Shoreview, Minn., nonprofit Ecumen operates nearly 100 properties and services in more than 40 communities in multiple states. Additionally, the company provides consulting services in management, marketing and development. For more information, visit the organization on Facebook or at ecumen.org.