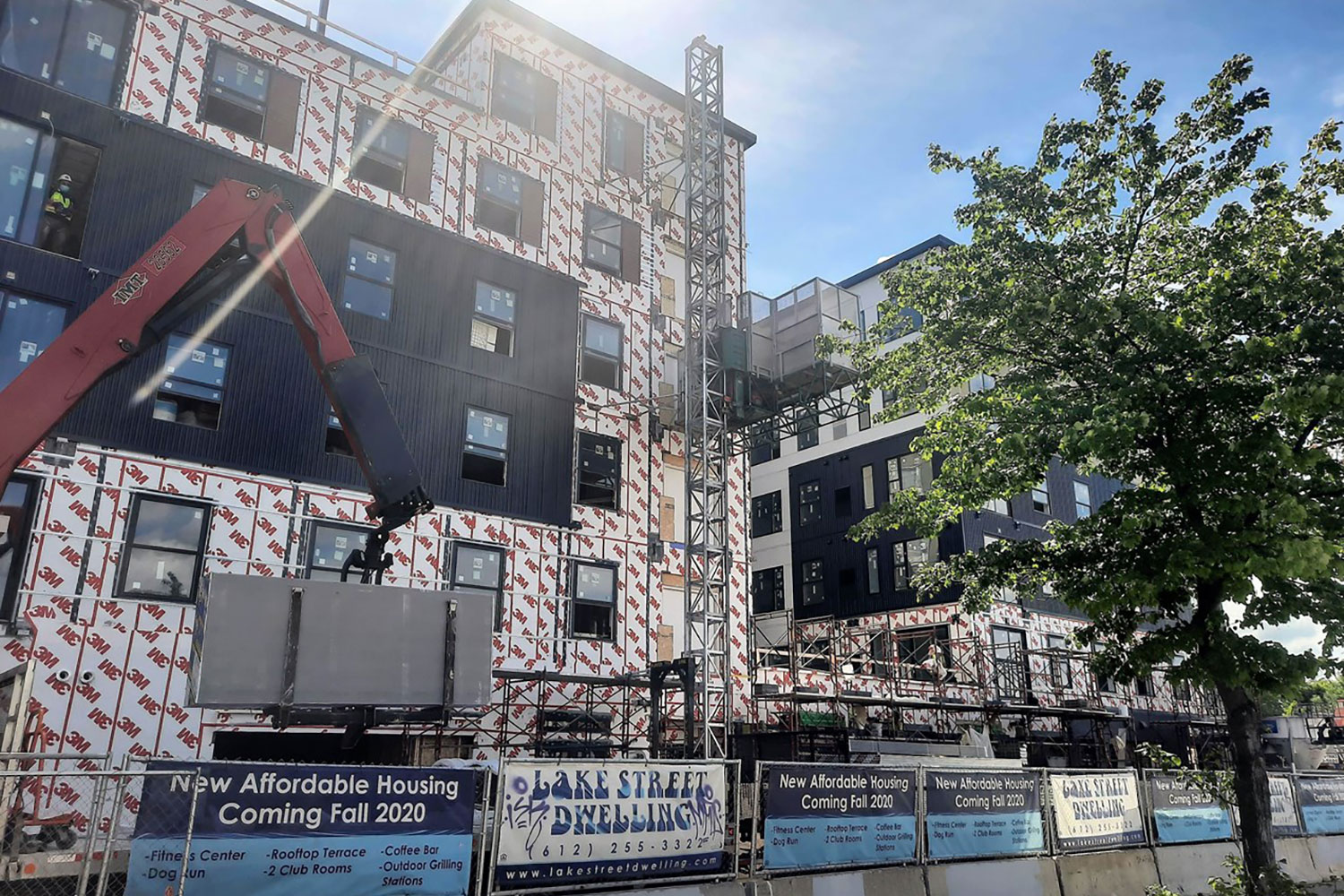 May 7, 2020
Lake Street Dwelling brings affordability to the heart of Uptown
Construction topped-off on first building in Lupe Development's mixed-income project
MINNEAPOLIS, MINN. — Following the topping off of the sixth floor, construction on the exterior of Lupe Development Partners' Lake Street Dwelling project in Uptown is progressing rapidly allowing for greater focus on finishing the units and common areas. As construction shifts to the building interior, the leasing office for the 100% affordable housing building is now open. The first residents are expected to move in November 2020.
Lake Street Dwelling is the first phase of a mixed-income housing campus under development at the northeast corner of Lake Street and Harriet Avenue. The building at 410 W. Lake St. under construction includes 111 affordable housing units with nine units reserved for homeless veterans. Hopkins-based Frana Companies is the general contractor. Lupe Development is partnering with Hennepin County and the nearby Ballentine VFW Post 246 to serve homeless veterans with safe housing and services.
"When Lake Street Dwelling opens this November, it will meet the growing demand for greater affordability in the Uptown area. We are encouraged by interest in the building and will work with our supportive housing partners to ensure people get the affordable housing they need," said Steve Minn, vice president and chief financial manager of Minneapolis-based Lupe Development Partners.
The first building includes a mix of studio, one- and two-bedroom units. To be eligible for the housing, residents will need to meet income restrictions of $30,000 to $42,000 a year. Located close to the Midtown Greenway, the property will feature a green roof, solar panels, a fitness facility, a business center, community rooms, outdoor decks, and a bike room with a repair station.
Lupe Development is also seeking approvals to build an entry-level market-rate building with 132 units and another 95-unit affordable building in subsequent phases. Construction on the market-rate building could begin as early as July 2020.
Prospective residents will be able to view floorplans and discuss eligibility with a member of the Lake Street Dwelling management team either by phone or in person at the leasing office. At this time, all in-person meetings will continue to follow social distancing guidelines. Visit lakestreetdwelling.com to learn more.